GSA "Luzhniki"

1997-2017



Innovative solutions from JSC "Stalkonstruktsiya" allowed to erect20.000 tons of metalwork for 11 months.

The support inner contour around the perimeter of the pitch with a length of 505 m and 5000 tons weight was completely assembled at site and raised to 50 m height by jacking gearsupplied by Dutch partner.

The reconstructionof the inner space of the stadium ahead ofWorld Cup 2018 performedbetween 2014-2017 by general contractor JSC "Mosinzhproekt" and LLC PCF "STEELCON" allowed to boost its capacity to 83,000 spectators seats - and fully meets the new requirements of FIFA for 5 * arenas world class.

QUALITY PROVEN OVER TIME !




JSC/ LLC «STEELCON» acts upon nationwide market since August 1993, being established as a separate firm of a JSC "Stalconstruktsiya" -Trust by it's shareholders and remains true to its mission for 25 years.

The development of our team started in 1995 with bidding won by JSC Stalkonstruktsiya on erection of GSA Luzhniki' roof up to 240х300m.

The unique installation and engaging of advanced load-lifting gear providedby Dutch group "Van Seumeren - Mammoet", the cyclopean metalwork produced by the country's largest steel plants determined our technological and production experience as well as to set the main staffing of the company.



Another landmark event became a roof erection project forSochi's Fisht Olympic Stadium with40,000capacity. Between March 2011 and May 2013 we installed over 25.000t of structural steelwith 75m heightcanopy andmain beam span of 250m.



The obtained experience has enabled to overcome the formidable competitionand deliver on erection with stadiumsin Kazan, "Spartak", GSA Luzhnikiand VTB Arena-Dynamo in Moscow, Yekaterinburg, Rostov-on-Don,Kaliningrad.



The staff capacity up to 1000 men and flexible operating politics enables STEELCON, LLC successfully to dominate in the marketplace.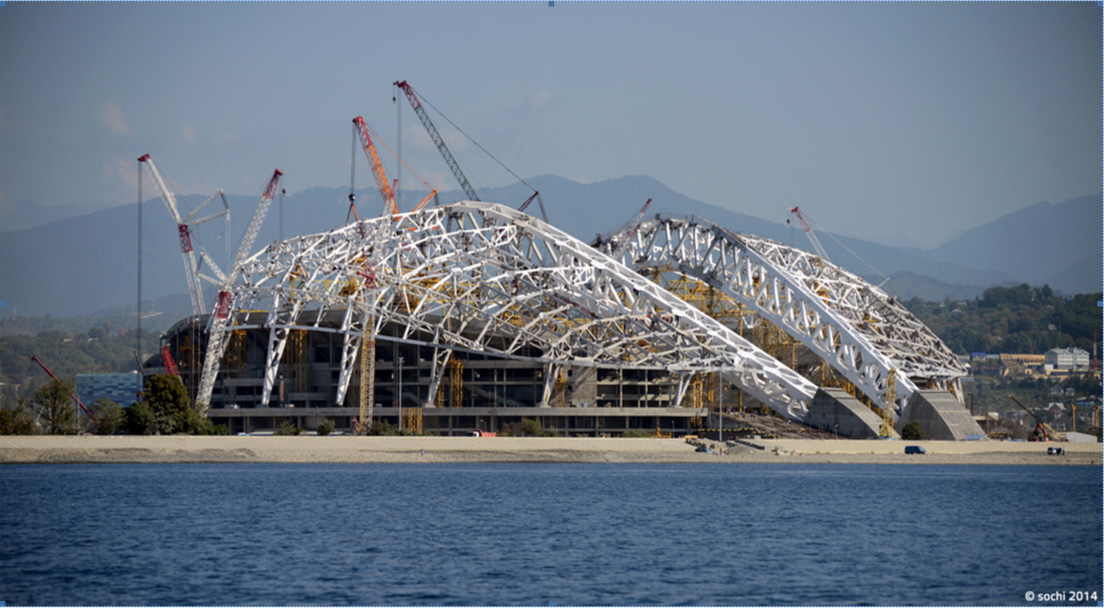 "FISHT" Olympic Stadium, Sochi-2014
Supply and installation of 25.000t canopy steelwork, 2011-2013
Reconstruction of the stadium for the World Cup 2018, April 2014 - April 2017
QUALITY POLICY




To achieve and sustain a competitive advantage at the building-and-erection market, a present quality policy being adopted.



"STEELCON" TRADEMARKQUALITY

"STEELCON" branded quality is the absolute guarantee and reliability; this is the full correspondence of the final result of our work to the requirements of state standards and expectations of the Customer.

The company has NACS-certified welders, equipment and welding process technologies.

Since 2006 the Quality Management System GOST R ISO 9001 has been implemented and is functioning.

We build responsible public facilities and therefore the company's performance quality is independent of the contractual price and should always be extremely high.

We consider quality is the only reason for Contractor to choose our brand and remain a regular customer of our company.





BALANCE OF TECHNOLOGIES

Own fabrication of structural steel at "Kotelniki" workshop – is the competitive advantage.

This minimizes the risks of delivery and allows our customer to promptly make the desired modifications to the project design and to provide the erection with additional elements.

The erection of support structures – The main bulk of structures are assembled with a combined method of bolt-on and weld-in connections.

The high-strength bolt connection is carried out with power nut-driver and calibrated "Dremometer - Gedore" torque wrenches 1200-2200 Nm; a multiplying gear of 4400 Nm is used for M36 bolts while operating at heights.

The installation of 'sandwich'- panels. The company provides the supply of economy and premium class panels and produces required flashing.

Welding best practices

- Only proved and licensed welders are allowed for operation. We dispose a UT laboratory and NACS-certified process technologies of hand-arc weld, mechanized in 82% Ar + 18% CO2 environment and orbital welding - for technically complex and unique objects.

The own certified NDI laboratory provides 100% control of VIC + ultrasonic testing of welded joints.







Stadium «Krasnodar» 2014-2015







«Baltica-stadium» 2015-2017







IEC«Crocus-Expo» 5км МКАД, 2005-2010