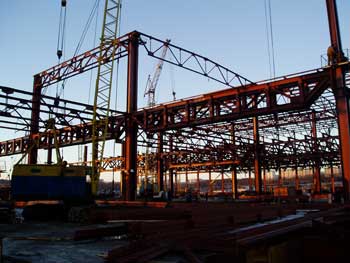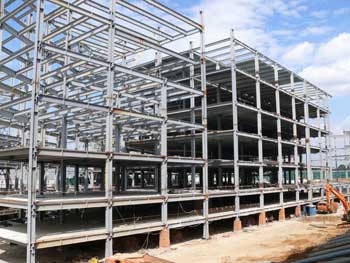 The undoubted competitive advantage of PСF "STEELCON", LLC is the availability of its own steel structures manufacturing for the building erection. Our company has years-long relations with the largest Russian Steel production plants and places big vendor contracts for its projects up to 30,000 tons per year, but the availability of its own fabrication for welded beams, trusses and fences allows us promptly to supply additional structures to the site at the customer' request. It is very common when big plants are heavy loaded for months ahead and physically can not deliver additionally designed structures within small volumes in time.
The company has its own fabrication workshop in Kotelniki, Moscow Region and Yartsevo,Smolensky region with a total metal structures capacity up to 1.500 tons/ month .
The structural steel is manufactured in accordance with GOST 23118-99 and SP 53-101-98 of high-quality rolled bars according to shop drawings either own or customer's production. The rolled metal is purchased at the largest metal warehouses in Moscow and the region, as well as under supply contracts from 500 tons and is delivered by our vehicles to production workshop. Only certified rolled steel is purchased.
- The incoming test inspection for rolled steel is carried out by the QC Dept. and the Welding Laboratory: an ultrasonic inspection for flat steel soundness of C345 on up is performed, if required.
- Cutting is made by high-performance plasma or propane machines as well as by manual cutting on site.
- Special attention is paid to the quality of welding operations, semi-automatic welding with a consumable electrode within the "FOGON" 80% Argon + 20% CO2 welding mixture produced by LLC "Linde Gas Rus",Balashikha.
Currently, automatic submerged arc welding for large size beams B40-B120 is introduced. The welding operational control is dailycarried out by NDT personnel of the Welding Lab. Applied welding technologies are certified by NACS for hazardous technical devices (see Certificates).
- Anticorrosive protection of finished metal structures is made according to the project with DTM GF-021 or CV, including powder coating. The thickness of the coating is controlled selectively by QCD with "Constanta-K6" thickness gauges.
- Before shipment, all products run100% QC inspection and the customer receives quality certificates according to GOST 23118-99 (Appendix D).
The quality of PCF "STEELCON" products is confirmed by the certificates of conformity "Mosstroysertifikatsiya" for typical structural elements (roof trusses, columns of multi-storey frameworks, welded beams and braces).
Acknowledgment of the high-quality steel structures produced by PCF "STEELCON" is their supply to the "Central Olympic Stadium in Sochi" and "Complex of FAFU buildings for the APEC Summit - 2012 in Russkiy Isl., Vladivostok".